Reena Alex
Degrees: M.Sc in Mathematics from University of Kerala, B.Ed from Mount Carmel Training College, Kottayam; Cambridge International Diploma for Teachers and Trainers (CIDTT)
Reena started her career in Kerala where she handled high school and higher secondary level. With 12 years of teaching experience (which includes 3 years in an International school in Chennai) she takes her teaching experience to a newer level and brings in diverse teaching methods to ensure the subject is loved and liked by all.
"Tell me and I forget. Teach me and I remember. Involve me and I learn.". . . Benjamin Franklin. The above catchphrase sums her attitude towards teaching and believes that Math is best learned if teaching is activity oriented.
Awarded a President's medal for Guides, Reena is fun loving and passionate about her profession.
She is currently the Math Coordinator for the Primary section and teaches Math at primary level.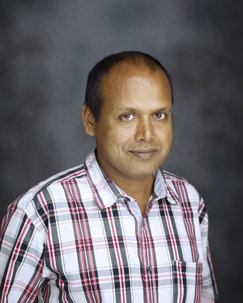 Charan
Degrees: B.E, Civil; M.A, History
Though Charan started his career as a Civil Engineer; he discovered his innate ability to teach. Since then, he has been teaching for over twenty five years. His interest lies in teaching Mathematics and Mechanics. Due to a great interest in the subject, he has also done his post-graduation in History. He has been a guest lecturer in many colleges in Chennai. He was running a coaching center for more than fifteen years in teaching one-to-one.
He has been teaching at APL for the past seven years. Generally considered a tough subject, Mechanics, is now being viewed as an interesting and fun subject, with his right approach. Charan is currently teaching Mechanics and Further Mechanics at the A-levels.
Kiruthiga
Degrees and Institution: B.Sc., Math from Meenakshi College for Women
Kiruthiga has 6 years of experience in IT industry as a software test lead and 2 years of experience as performance consultant which involves identifying the performance gaps / learning gaps in associates and providing relevant solutions to address the gaps identified. From her childhood, she had a deep interest and passion in teaching and has always volunteered to take classes for the students. She has interest in mehendi designing and cooking.
At APL, she teaches Math for the middle school.
Bincy Varghese
Degrees: B.Sc. Math; PG Diploma in Hospital Management
Bincy has also completed her Montessori training and has a very good understanding of the Montessori model of education. She has over 8 years of experience in the field of education in India as well as in UAE. In her previous institutions she worked as a KG class representative. She believes that a large part of the educative process is based on encouragement and motivation. She likes travelling, reading, music, dance and clay moulding.
At APL, she teaches the kindergarten and Mathematics to the primary level.