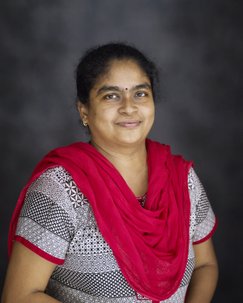 S.A. Anseline Fernando
Degree and institution: M.Sc., Physics; M.Phil in Crystal Growth from Loyola College, Chennai
Anseline is also passionate about French for which she holds a district level gold medal. As a teacher this is her first experience and she is most excited for she believes that 'Learning is Eternal'. For her the motivating factor is that she can impart knowledge to children every day. She loves reading and listening to music especially melodies.
Anseline has been teaching French for Primary and Middle School and Physics for Middle and Senior School. She is also the Physics coordinator
for Grades 8 – 12.
Sheela Sundaresan
Degree and Institution: B.E from Bharathidasan University, Tiruchirappali
Sheela has worked as a software professional for over 10 years in India and in the US and holds a patent for designing a software process as part of her work. On her return to India she pursued her interest in learning languages and completed her B2 level in French and A2 level in German. A desire to kindle interest in young children in learning new languages led her to APL. This is her first teaching experience. She loves to read and travel and has visited many countries."She has also completed an online training on 'Differentiating Instruction' offered by Harvard."
At APL she teaches French for middle school and IGCSE as well as
Physics for IGCSE.