Thank you for registering with APL.
This is stage 2 in the registration process. Click on the appropriate grade category to know more on the admission process.
Completion of this process involves the submission of the following documents and questionnaire either as hard copy or scanned and e-mailed to admission@apl.edu.in.
1. Latest academic assessments (except for LKG)
2. Birth certificate
3. One passport size photo
4. Any other assessments that you may think is necessary for us to have knowledge of.
5. Parent Questionnaire.
You will receive a call or a mail with details on the date and time once we have received the documents mentioned above.
Questionnaire for Parents (Academic Session 2016-2017)
For KG, 1 and 2
For  3, 4 and 5
For 6 to 12
Group Interaction Documents (Academic Session 2017-2018)
For KG
For 1 and 2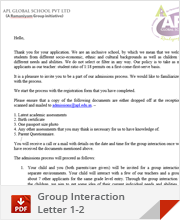 For  3 to 8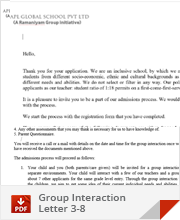 For 9-12
Questionnaire for Parents (Academic Session 2017-2018)
For KG, 1 and 2
For  3, 4 and 5
For 6 to 12