Gita Jagannathan
|

Founder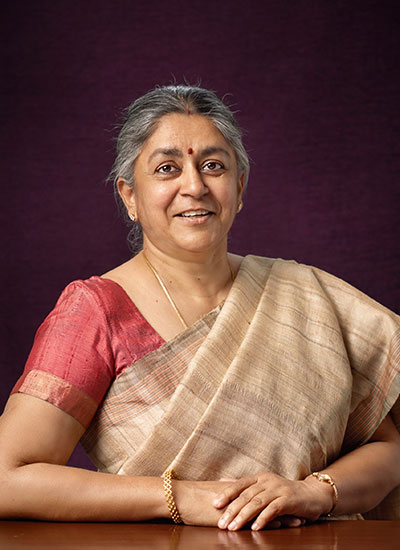 Ms. Gita Jagannathan is the owner and founder of APL Global School, Chennai. She is a voracious reader and connoisseur of fine art, music, and humorous tales. She has a penchant for exploration and thirst to constantly evolve; attributes that reflect her growing-up years when she had to make sense of the cumulative experiences of travelling through 8 different schools, her father having been in a transferable job. APL Global School is the outcome of her search for an inclusive and nurturing space. Gifted with a thirst for the whys and hows of a person's evolution she spent years reaching out, tutoring and mentoring students who were struggling to fit in despite being intelligent, talented, and hardworking.
This drove her to learn more about giftedness, learning disabilities, and special education. She used the Cambridge International Diploma for Teachers and Trainers and a course with Harvard Wide on Differentiated Strategies to deepen her understanding of pedagogy and learning. Gita is a Reiki Grand Master, a hypnotherapist and a student of Yoga. This spiritual sensibility in combination with her skills in psychology and counseling alchemically contributed to the birth of APL school as a space to experience personalized learning for students, faculty members and all stakeholders.
Gita has put in huge efforts and timeless exploration for the establishment and smooth functioning of the Academy for Personalized Learning or APL Global School. Founding the institute was the beginning of her journey of transforming the education system. Her unique endeavours to make a positive difference in the education sector are far better and more practically-driven as against the conventional form of pedagogy that has been globally followed for so long
She believes that every human being is unique; that it is possible for each of us to realize our true potential and create an environment that is supportive. In a relatively short span of 13 years, under the tutelage of Gita, APL has gained a reputation for providing a caring educational system that develops every facet of a child's personality. Her aim is to have every student become a happy and healthy individual who confidently explores the limits of their own potential.
Sarija Santhosh
| Principal
" What I learn, I explore; that I experience. I learn and learn for life. This is the driving force behind my role as an educator. Facilitating my students' journey along with their teachers' through wonderment, exploration, inspiration and learning is my goal. I aim to instil confidence in students and make them believe they too can be inventors, discoverers, scientists, a good Earth citizen- A fantastic human being. My day is made when I see the glee and the gleam on my students face when they have had learning which was splendid, awe-inspiring."
Sarija Santhosh holds a Bio-Medical Engineering (Hons) degree from the Bombay University. She has had a successful career in a string of reputed corporate houses including Hewlett Packard, Network Ltd, Interkadio Pvt. Ltd and Systems Bio-medical Pvt. Ltd in which she has held and successfully performed challenging sales and service responsibilities. She moved into the educational field to share her knowledge, combined with her passion for being with children.
Sarija has completed her Cambridge International Diploma for Teachers and Trainers with a distinction in module 1 and A-level (Biology) online training with Cambridge University.
In addition to being a faculty in the Department of Biology, she was also the Biology co-coordinator, where she mentored teachers in making lesson plans and assessments to help them give wings to student's imagination and experience science with all their senses. In the role of an Examination officer, Sarija brought in her years of managerial experience and skill and took the entire team of teachers to conduct the examinations seamlessly and flawlessly. In her stint as Head of Middle and Senior School, her vision to develop a rigorous learning environment, mentoring and leading a team of teachers for the holistic development of the students, saw its fruition at various levels. In her role as Head of Junior School, she continued to deliver the vision that she developed in her earlier role. Her efforts towards an inclusive learning environment and empowering students through restorative justice are close to her heart. She now steps into her new role as the Principal of APL Global School in 2020-21.
Sarija has multifaceted talents and interests that range from being a nature lover to Indian classical dance & music. She also likes reading technical updates on medical advances and has a keen interest in various art forms and mediums. A year into her role as principal, Sarija has steered the school through unheralded challenges of 2020, hand-in-hand with all stakeholders. Her experience and expertise has served as a lynchpin in embracing change while engaging students and teachers alike with the same vigour and energy.
Sangeetha Rajamani
| Head, Teacher Mentor Centre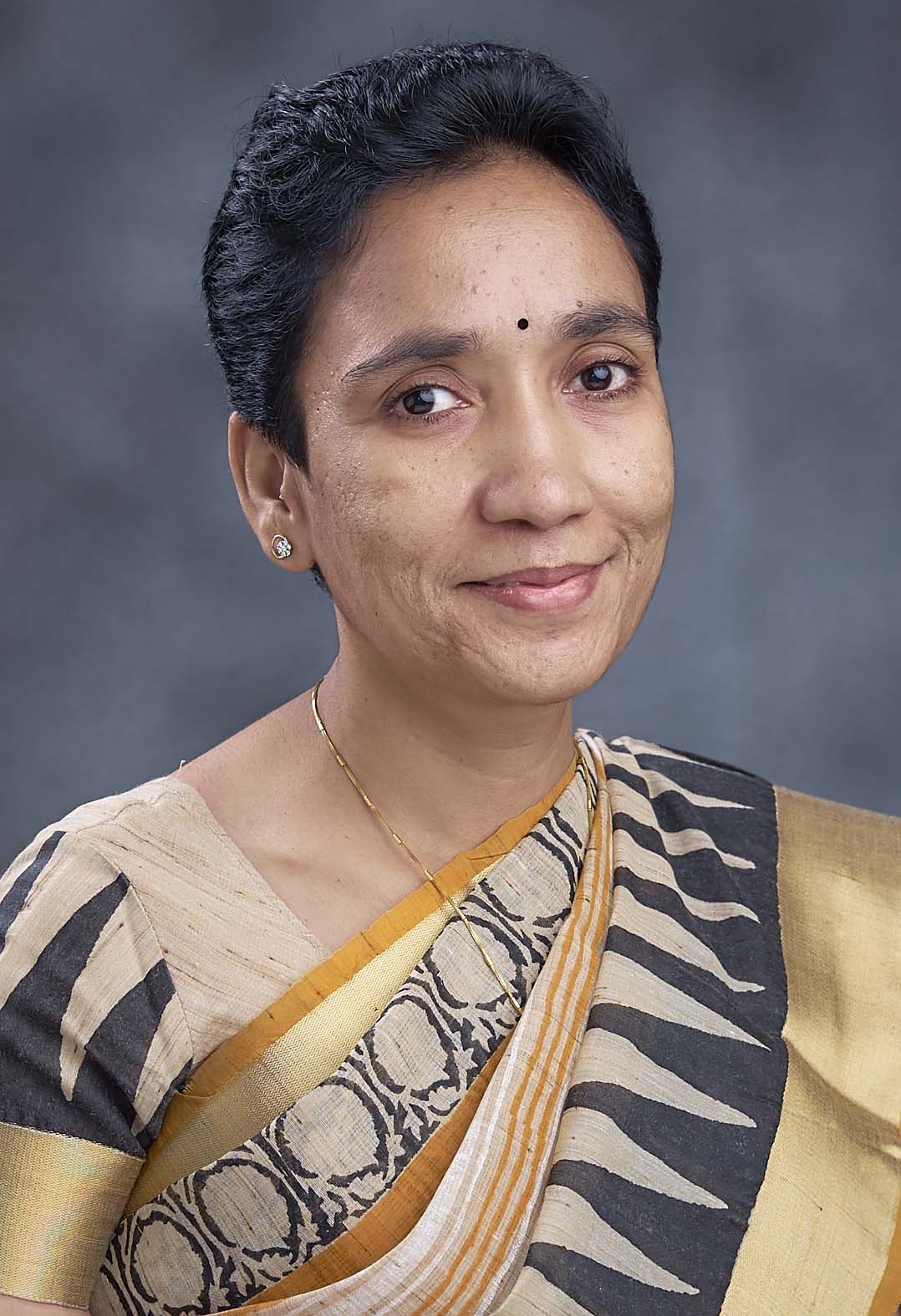 Sangeetha Rajamani, an experienced educator, currently has the privilege of heading the Teacher Mentor Centre at APL Global School. Her journey so far has been graced with a diverse array of roles: from Special Educator and Mainstream Teacher to Special Education Coordinator, Student Counselor, Subject Coordinator, Head of Elementary, and Head of Primary. This varied blend of experiences has shaped her leadership style, which is characterised by a harmonious blend of compassion and efficiency. She embodies a person-centric attitude that seamlessly resonates with the cherished values of our school, symbolising her enduring devotion to the realm of education.
With mindful awareness of her responsibilities, Sangeetha approaches her role with unwavering humility and authenticity. The environment she nurtures for her colleagues is one of growth and collaboration. A steadfast believer in the adage that 'Learning is a lifelong journey,' she empowers educators to embrace the ceaseless quest for knowledge. Her strong belief that 'Empowering teachers leads to empowered students' underscores her dedicated effort to create meaningful learning pathways for teachers.
In her capacity as the Head of Teacher Training, Sangeetha is committed to empowering educators by encouraging them to refine their skills and embrace innovative practices. Her educational philosophy is anchored in inclusion – a cornerstone that fuels her aim to equip educators not only with tools but with the                                                                             mindset and heart set to effectively cater to the diverse needs of the students.
As a Teacher Mentor, Sangeetha is dedicated to guiding educators through their paths of personal and professional development. Her mentorship places a firm focus on nurturing individual strengths and cultivating reflective practices, thus fostering a culture of continuous improvement and advancement. In this shared journey, Sangeetha Rajamani humbly walks alongside her colleagues, fostering an environment where everyone is learning and thriving.
Gomathi Prabhakar
| Head, Senior
'Continuous learning, perseverance, can do attitude and commitment are the principles that drives me in my life! My belief is that, one can learn at any age from every moment, every life instance is a teacher; therefore, it is important to give everyone an enriched life experience. When in school, this is of paramount significance. Every child needs to develop an attitude of curiosity, a willingness to work hard, respect, value and care for all types of ideas, eagerness to learn and show a passion to implement their learning in the most meaningful way to them – this way they can love what they do and be proud of what they become!'

Gomathi Prabhakar, has been part of the APL family since its inception in 2008 and has grown with it. She has enthusiastically worked in various capacities. Her career spans from being a faculty, subject co-ordinator , co-ordinator for Model United Nations (MUN), the head of Expressions that covers the school Annual day and inter school cultural fest – SYNERGY and several other school events. She facilitated the school MUN club to attend the first overseas conference, the prestigious Harvard MUN. As Head of Senior School, Gomathi draws from all these experiences and continues to build new synergies between teachers, students and parents.
She is a firm believer in inclusion and affirms that the purpose of education is to ensure that every child acquires knowledge and skills in a way the child wants. She believes that as much as the parents instil various values in a child, it is the responsibility of teachers to develop it further and nurture the individual strengths; create a culture of respect, belonging and acceptance of individual differences. She envisages a vision of creating a learning environment that would empower children to attain their goals and develop into a stronger, confident and happy individual.
Gomathi has a master's degree in History from the Delhi University. She holds the Cambridge International Diploma for Teachers and Trainers and has also acquired the IB certificate in Holistic Teaching and Training. She is also trained in Mindfulness Fundamentals. Before joining APL, she had a brief stint in entrepreneurship. With the ideology of embracing 'change' as a constant factor in her life and a mission of exploring the world of brain development and life skills for a child, she has been actively involved in the curricular and co-curricular aspects of the school. She believes in combining academics with physical and mental health for a holistic development of the child.
At APL, she has been teaching History and Environmental Management at the IGCSE level. Now as a head of Senior School, she coordinates with teachers, students and their parents and is responsible for the daily operations in the Senior school.
She strongly believes in care, respect, teamwork & collaboration, which resonates and compliments with the values of APL.
"Peace begins with a smile"
Vaijayanthi, is an ardent believer in Diversity & Inclusion. She strives to create an environment that is diverse & supportive for every child under her care. She trusts that Inclusive education benefits children by inculcating in them a respect for human diversity thereby the ability to create a respectful society. It also provides opportunities for all of us to develop the much desired qualities of compassion, empathy, and helpfulness.
Vaijayanthi believes that this inclusion is possible by providing opportunities through changes in curriculum and teaching methods.
"Every child is unique and this uniqueness is powerful. As teachers we are committed to building and nurturing a space, where this uniqueness of a child can be encouraged with a supportive approach towards realizing the maximum potential of the child.
Vaijayanthi has done her Ph.D in Pharmacy and has 2 decades of teaching experience at College level. She likes to update herself with the latest medical advances. She is a nature lover and an animal lover.
Her passion towards special education made her acquire a degree in Special Education from Madras University. She has been working with special children since 2010.
Her experience in teaching and working with special children allows her to provide strategies and guidance to the teachers as they work to derive the potential of the student and develop their own skill sets.
At APL, Vaijayanthi joined as Special Educator in 2014, remediating English, Science & Business studies. In 2018, she became the Coordinator for NIOS and the Gifted Children program. Since 2019 June, she has been the Head of NIOS and continues to work with passion and zeal to bring in differential curriculum and vocational training for children with different abilities.
Mahalakshmi Sankaran
| Head, Lower Secondary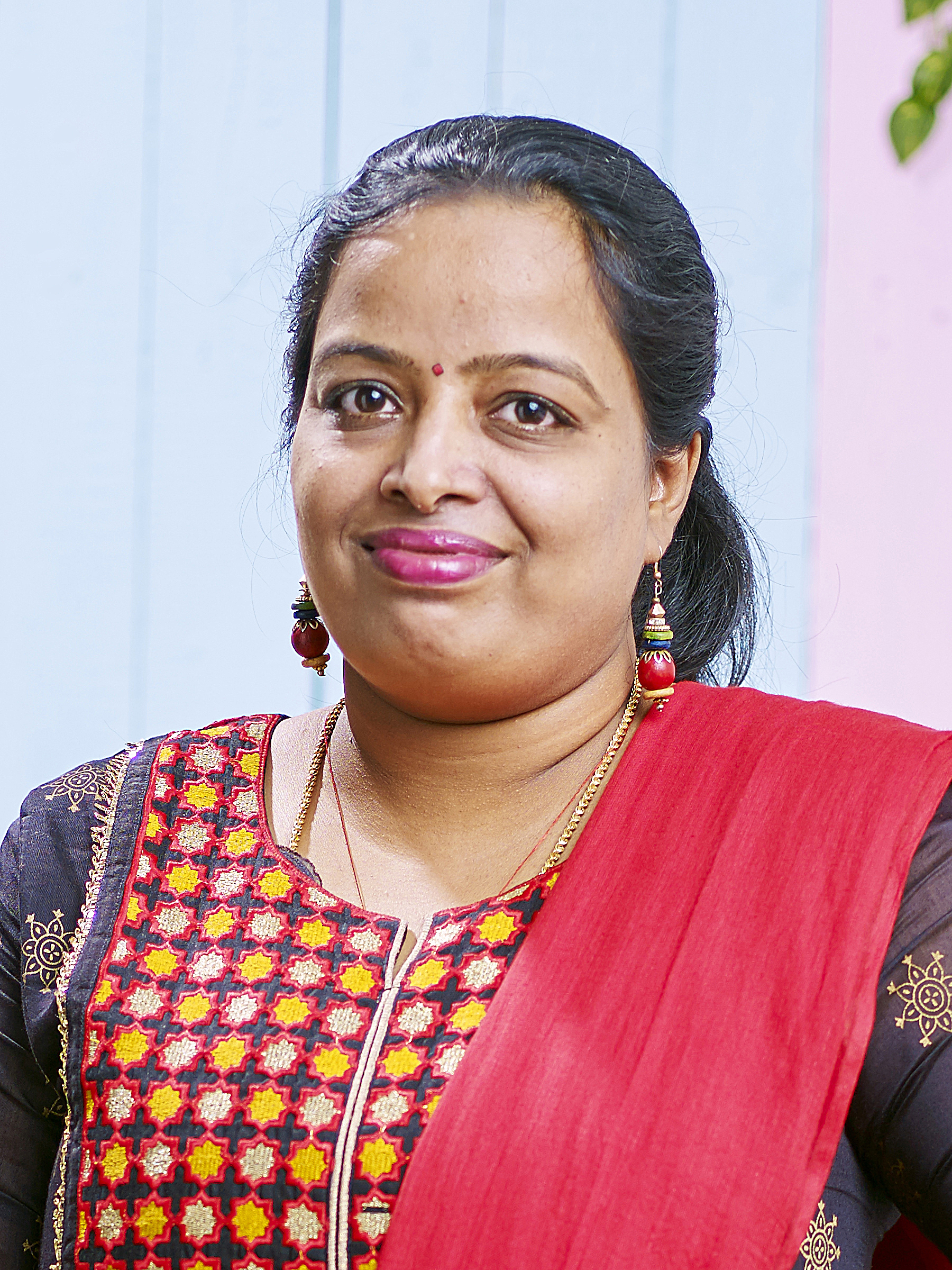 'Continuous learning, perseverance, can do attitude and commitment are the principles that drives me in my life! My belief is that, one can learn at any age from every moment, every life instance is a teacher; therefore, it is important to give everyone an enriched life experience. When in school, this is of paramount significance. Every child needs to develop an attitude of curiosity, a willingness to work hard, respect, value and care for all types of ideas, eagerness to learn and show a passion to implement their learning in the most meaningful way to them – this way they can love what they do and be proud of what they become!'

A life-long learner, Mahalakshmi Sankaran has over seven years of experience in the profession of teaching. She joined APL Global School in 2014 as a teacher for Math, Science, and Computer Science for Primary. Taking on the role of Math Coordinator for Primary and later for Lower-Secondary School were the stepping stones to her current role as the Head of Lower-Secondary School.
Before joining APL Global, Mahalakshmi worked in the IT industry with companies like IBM, Tata Consultancy Services in India and Australia, and Philips in Singapore. As Alvin Toffler said, 'The illiterate of the 21st century will not be those who cannot read and write, but those who cannot learn, unlearn and relearn'. An Electrical and electronics engineer by profession, Mahalakshmi is now working on her Cambridge International Diploma in Teaching and Learning.
Having spent the last few years in the education sector, she is particularly interested in new-age teaching practices and pedagogies that will help teachers recognize students' varied learning styles and practice differentiation in the classrooms. Differentiation, she believes, will be the way forward to create compassionate, humane contributors who are critical thinkers and skilled communicators. Having essayed the role of a student-mentor for several years now, Mahalakshmi firmly believes that a teacher with a passion for teaching, a hunger to learn, and the determination to nurture the young minds is the best facilitator a student can have in their school life. Working alongside the Training department, to equip teachers with these essential skills for this challenging and relevant curriculum, has been her passion.
The most valuable resources we have at school are our people – parents, teachers, students, staff – and we all have each other. She will strive to collaborate with all of them for their mutual growth. For a school as diverse as APL, she believes in creating inclusive environments where every student will have strengths to build upon, interests to share, and experiences to honour.
Jolly Francis
| Head, Primary
Teaching children to count is fine, but teaching them what counts is best— This is Jolly's mantra. A Gold medalist in post-graduate Engineering with 10-years of teaching experience, Jolly Francis' career started as a lecturer in an Engineering college. After a stint of 3 years of developing and nurturing technical minds, she was drawn into the world of tiny tots
An enthusiastic, dedicated and creative individual, Jolly found her true calling in the world of young children. At APL, she began as a math teacher for Primary grades. Her classroom success stories and pleasing personality propelled her towards a leadership role, thus taking over as the coordinator for Math at the Primary level.
As a coordinator, Jolly guided her colleagues to improve teaching strategies in Math. As a team player and go-getter, she established professional relationships with parents, the administration, and other staff members ensuring the seamless functioning of the Primary Mathematics Department.
Agile and active, Jolly shows a keen interest in sports and dance. As a swift sprinter, she has won several championships and participated in state-level events. Apart from these activities, she channelizes her creativity by engaging in design art.
Jolly has also been a part of national and international conferences. Her paper titled 'Kernel Weighted FCM base MR Image segmentation' was presented at the Institute of Electrical and Electronics Engineers Association (IEEE) conference and was published in the IEEE digital library.
As the Head of Primary school, Jolly aspires to create an environment to nourish and nurture young minds and empower them with the ability to realize their potential,  guided by the principles and philosophy of APL. She vows to continue to uphold the professional atmosphere amongst teachers, building on collaboration and investing in new practices.
Archana Sekar
| Head, Kindergarten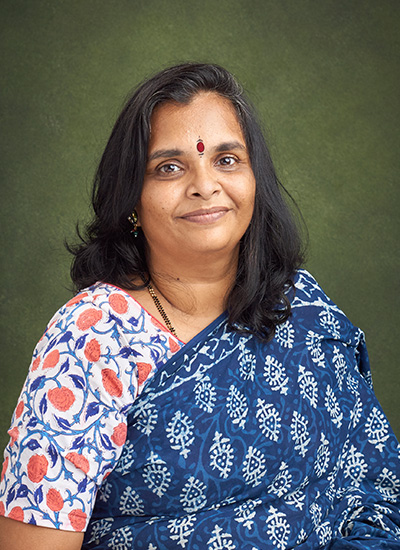 Early years are the foundation for life-long learning for a child, focusing on the PSE (Personal Social and Emotional) development and the formation stages of the 3Rs in education. 
Holding firmly to this belief, Archana specialised in Early Childhood and brings her experience of 15 years in teaching and coordinating for the pre-primary years. Her expertise stems from her experience in both the International Baccalaureate (PYP) and the Cambridge system with an emphasis on Multiple Intelligences.
Her interest lies in the designing and redesigning, creating and coordination of curriculum (pre-primary) and also in administrative verticals to increase the facilitation of an environment for children that is student-centric and evolving.
Apart from the above, Archana has spread her teaching abilities in the form of training of government teachers of Tamil Nadu in Jolly Phonics. Her other interests include cooking, traveling, and reading.
She joined APL as a Mentor in the Elementary School. She moved on to become the Kindergarten Coordinator. She has worked towards creating a dynamic environment to make teaching and learning fun. She has worked with her team to focus on a single common vision – empowering children and each other. As a Coordinator, she has been able to use her strengths in planning and time management to enable her team and make a strong and positive impact on the Organization.
As the Head of Kindergarten, apart from providing a platform for innovative ideas, she will continue to mentor and inspire the teachers so that they may reach their potential and grow to impart the kind of teaching that aligns with the APL philosophy.
Kripa Ganesh
| Head, Special Education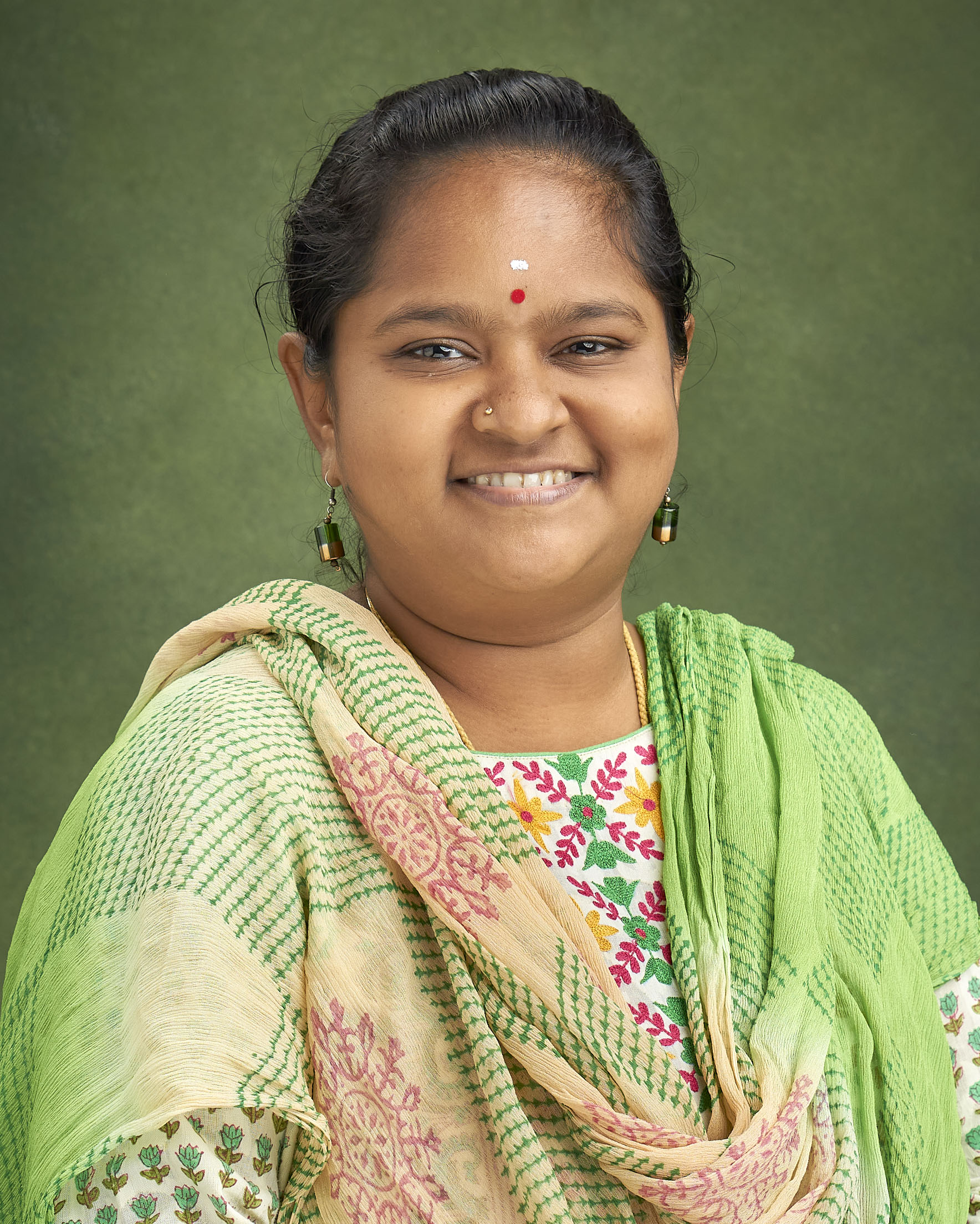 Kripa firmly believes that "Understanding students' strengths, their areas of interests and providing adequate learning opportunities in familiar environments is the key to unfold their potential".
Kripa Ganesh is primarily a management graduate. She later changed tracks and embarked on a journey with special education. She has since then completed her PG Diploma, B.Ed and M.Ed in Special Education, from Mumbai. She has also completed an online certificate course on Differentiated Instruction from Harvard University.
Prior to joining APL, she has worked in special schools, in Mumbai & Chennai, in the capacities of a Special Educator, Course Coordinator and Research Coordinator. She has been a visiting faculty at special schools, colleges and vocational training centres. As part of a research project, she was instrumental in setting up a resource room for providing therapy and special education services in a slum area in Mumbai. She has also participated in creating awareness on disabilities through street plays, radio shows and write-ups.
She joined APL in 2013 as a Special Education Coordinator, progressed as Deputy Head of the Special Education Department and is currently the Head of the Kamalam Programme, a unit for students working on functional curriculum, launched in June 2021.
In her role as Special Education coordinator, she conducted observations and assessments for students, to make placement decisions. She worked with teachers and parents to empower them with strategies for developing and honing specific skills. She actively supported them by sourcing appropriate resources and hands-on activities that would help
students in their learning.
She has always shown keen interest in planning and conducting the training programs in APL. As the Deputy Head of the Special Education Department, she mentored and supported special education coordinators in developing student specific plans and guiding them in their work with teachers.
In her current role as Head of the Kamalam Programme, she guides the teachers in creating theme-based plans for students focussing on their functional literacy, communications, math, daily living and community living skills. She works closely with therapists and teachers to plan the co-curricular programmes for the students. She focuses on encouraging students to interact with their peers and family, enabling them to participate in community activities and empowering them find their voice; which will improve their self-esteem and make them feel as contributing members in the community.
She is very passionate towards her work and possesses over 12 years of experience in working with children having diverse learning needs.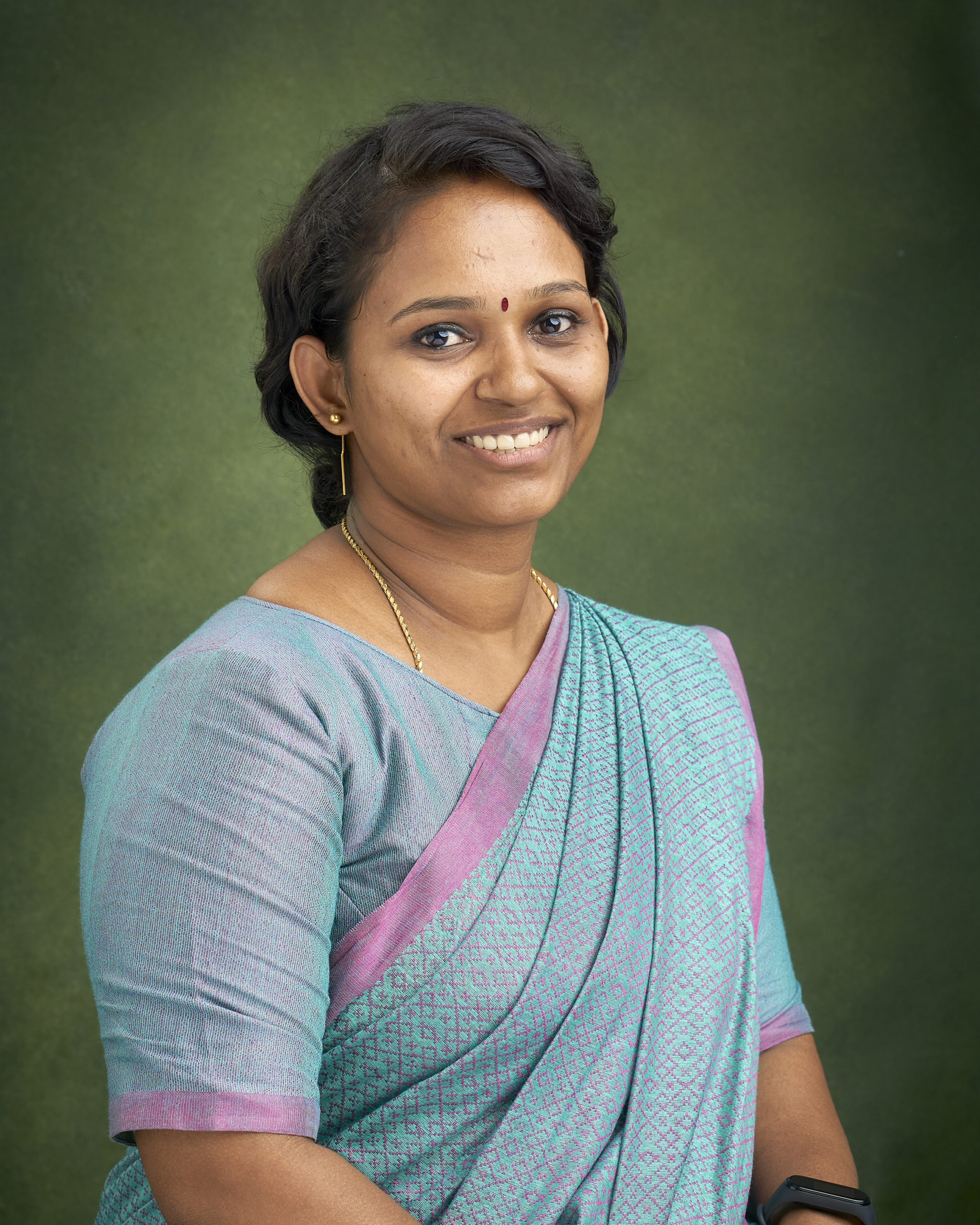 With this firm belief, Ashadevi has specialized in Early intervention and vocational training, backed by a decade's experience as an educator and coordinator at the pre-primary and primary school levels.
Ashadevi Maranan has done her Masters in Computer Science, Masters in Psychology, Bachelor of Education, and Diploma in counseling.
Her journey started as a special education teacher in APL in 2013. Her expertise lies in designing and coordination of individual learning plans and the personalized curriculum for children with diverse interests and needs.
As a Coordinator (Special Education), she not only understands and caters to the needs of differently-abled children but also mentors all the special educators.
Her interest also lies in administrative verticals creating an environment for children that is truly inclusive in essential.
As the Head of Kamalam, she will aim to create opportunities for innovative ideas and will continue to mentor and inspire the teachers to reach their potential to impart teaching that aligns with the APL philosophy.